Since the twelfth century Catholics have been saying the rosary. Since then Mother Mary has appeared, as recently as 1917, to ask all people to pray the rosary daily for sinful souls. She said,
"
Some I shall grant, and others I must deny. People must amend their lives and ask pardon for their sins. They must not offend our Lord any more, for He is already too much offended! "
This is just one of the reasons as Catholics we are taught to pray the rosary.
In 1931 a simple nun, Sr. M. Faustina Kowalska, began to have visions of Jesus. In these apparitions he asked her to paint a picture of what she saw. Her vision was Jesus with one hand raised in blessing, from his heart was a white and red ray of light. These lights were to represent the blood and water which poured forth at his passion. She was also given a prayer to teach people. These prayers are known as the Chaplet of Divine Mercy. His message was, "
Before I come as a just Judge, I first open wide the doors of My mercy. He who refuses to pass through the doors of My mercy must pass through the doors of My justice."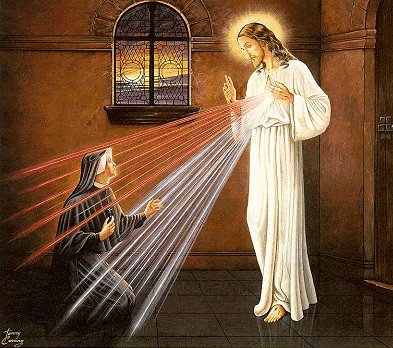 More so during the school year than in the summer, the kids and I get into a really good routine of saying either the rosary or the chaplet around 3:00 pm. However, let it be known that out of these two prayers the easiest for the kids (at least the 5 year old) and quickest is the Chaplet. So, that is usually the one they choose to say. Leaving me in a bit of a turmoil because it isn't easy to find time in a hectic school day to say both. Guilt!! Good old Catholic guilt!
I pray that I may find some balance and peace. Guilt over prayer isn't' what God would want for me.