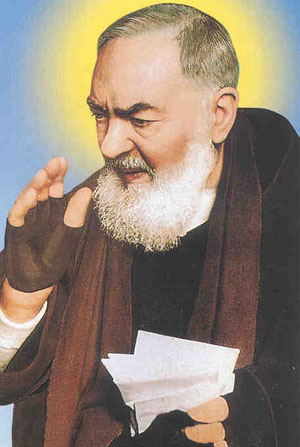 Saint Padre Pio, with all his wisdom said, "Pray, hope and don't worry. Worry is useless." Words I find myself repeating over and over.
During a recent homily at church a visiting priest said, "What a terrible insult to Jesus to worry." "Live in Jesus not in worry." Ouch! that hit home.
God is constantly reminding me!
However, genetically, I am predestined to worry!! A definite flaw in my makeup! I come from a LONG line of anxious people. Which is why at 3:00 o'clock in the morning I find myself up blogging and not sleeping!
Tomorrow (okay really today in a couple of hours) I take Mike in for his elbow surgery. And instead of sleeping I'm awake thinking and what ifing myself crazy!
So, I'm going to head to bed. Offer up my prayers. Tell satan to take a flying leap and leave me alone, I'm turning it all over to God. God ALWAYS takes care of us! He's proven it to me over and over again. (Not that He even needs to!)